Sunday Salsa at Robson Square – Summer 2014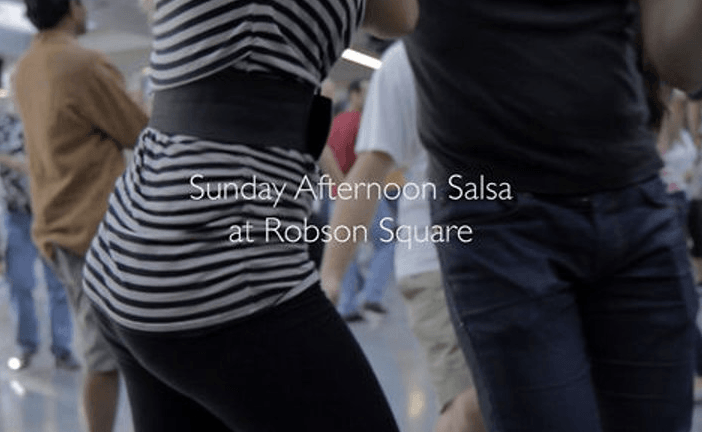 The much-anticipated event Sunday Afternoon Salsa at Robson Square is almost here! Salsa at Robson Square is hosted by Stephen & Jennifer Dancey of SalsaVancouver.net and the Dancey Ballroom and is located at the corner of Robson and Howe street in the middle of downtown Vancouver. The event offers free outdoor Salsa dancing for all ages throughout the entire summer. Salsa at Robson Square starts on Sunday June 29 and runs for nine weeks, every Sunday until August 24. There is a free half hour introductory Salsa lesson at 3pm followed by a full afternoon of social dancing from 3:30-7:00pm. In the middle of every afternoon, at 5pm, there is an exciting dance showcase featuring some of the top dance talent around Vancouver. Performances include a wide variety of dancers and dance styles such as Salsa, Belly Dancing, Flamenco, Peruvian Folkloric, West Coast Swing, Samba, Tinikling, Ballroom, Cha Cha, Hawaiian/Polynesian, Zouk, Tango and more!
Check out last year's video to really get a feel for what the event is like.
No Salsa Partner Required
The Salsa community here in Vancouver is diverse and extremely friendly. One of the best parts is that everyone dances with everyone else. No need to show up with a partner, people will often ask you to dance and encourage you to give it a try. Even when people show up with their friends or bring a partner, they are always ready to switch things up and dance with someone new. So don't worry, you can always show up by yourself and still have a ton of fun.
Robson Square Salsa = Fun For Everyone!
Sunday Salsa at Robson Square attracts hundreds of dancers and keen-to-watch bystanders every week. The greatest thing about Sunday Salsa is that the dances are open to everyone—regardless of skill level. If you have never done Salsa before, the beginner lessons at 3pm are a great way to get started. Sometimes they're even taught by our very own instructors, Patrick and Scarlet! During the lessons you will learn the fundamentals of the dance and become confident enough to social dance with heaps of amazing people for the rest of the afternoon. Not only is Salsa an incredibly fun dance, it's an amazing way to meet incredible new people from all walks of life.
If you're already an experienced Salsa dancer, you are going to have a blast—this event is not to be missed!  People often travel from out of town to attend so you'll never run out of new people to dance with.
Join the Vancouver Salsa Community & Give Salsa a Try!
This event is an open door into the ever-so-friendly Vancouver Salsa Community. If you're interested in giving Salsa a try, we promise you will have a good time. If you find yourself second-guessing this opportunity, don't! We're here to help you build your confidence and get started with Salsa before you show up at the event. We know learning a new dance can be intimidating, so don't worry, we have just the thing for you!
Build Your Confidence & Learn Salsa in 7 Days
For all you newbies out there who want to get started with Salsa, try our Dance Dojo 'Salsa in 7 Days' program. It's totally free and will help you learn all the necessary Salsa basics to get you social dancing in just one week. It's a set of online Salsa video lessons that will get sent to you by email—one lesson per day for one week. You can learn at your own pace and gain the confidence you need before showing up to the Robson Square Salsa event. By the end of the Salsa in 7 Days program, you'll be more than ready to social dance with strangers and bust a move on the dance floor. You can learn more about the program and sign up here.
We look forward to seeing you out on the dance floor—Bailamos!