Lessons in this Collection
Lessons: 10 | Duration: 97:30
Lesson 1: Side Basic, Front-Back Basic & Closed Hold
We'll get you moving with some basic steps and show you how to begin connecting with your partner in the classic closed hold. It's an exciting beginning!
Lesson 2: Back Basic, Cumbia Basic & Open Hold
After this next set of basic steps, you'll have a solid idea of how to begin moving in different directions, while keeping time with salsa music.
Lesson 3: Putting Your Basics Together
Here we bring all your basics together so you can play around and get used to transitioning between them. We'll show you a simple pattern you can use to practice and then you can switch between them in any order you like!
Lesson 4: A Tip for Your Basics
We can't reveal all of our secrets here now can we?
Lesson 5: Basic Right Turn & 5 Turn Pattern
The right turn is the first turn you learn in salsa and it's the foundation for eventually learning double turns. In this lesson you'll learn 5 handhold variations for the right turn so you can drill it and get it in your muscle memory.
Lesson 6: Cross Body Lead
Although it's a move within itself, soon you'll use the cross body lead (CBL) to bridge moves together. It's very typical in linear "night club style" salsa and it's the foundation for many moves – be sure to perfect it over time.
Lesson 7: Change of Place
The Change of Place uses your Cumbia Basic to switch places with your partner. The more comfortable you are with it the better. In the Experienced Beginner series, you'll learn a move called Ochos, and the building block for it is none other than the Change of Place.
Lesson 8: Four Basics with Cross Body Leads
In this pattern, we challenge you to use your Cross Body Lead to transition between your four basics. Once you get it down, you can switch up the order in any way you like.
Lesson 9: Five Turn Pattern with Cross Body Leads
It's time to insert the Cross Body Lead into your five turn pattern. Adding in cross body leads helps break things up, making your dancing feel more interesting, dynamic and spontaneous.
Lesson 10: Change of Place with Cross Body Leads
As you're starting to see, the Cross Body lead is a great way to transition in and out of the different moves you do, including the Change of Place. Once you're comfortable using the CBL to bridge moves together, then we can increase the difficulty.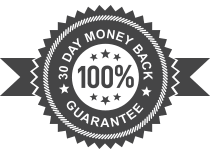 We Guarantee You'll Improve
Not completely satisfied within 30 days?
You get your money back.
That's our promise.
Start Improving Your Dancing Today