Lessons in this Collection
Lessons: 25 | Duration: 4:36:30
Lesson 1: 5 Turn Pattern Upgrade (Adding Back Breaks)
In this upgraded version of the 5 basic right turns, from our Absolute Beginner series, the leads and follows move away from each other to  make it more dynamic. Don't panic! You'll come back together ;)
Lesson 2: Left Turn with Checks
It's about time you learn to turn left! We'll also show you how to have a little fun with your partner before you do so, sending her one way and then back the other using checks. Checks are changes of direction.
Lesson 3: Shoulder Catches
Shoulder catches are a close cousin of the change of place from our Absolute Beginner series. As the leads do a semi change of place they catch the shoulder of the follow and send her back.
Lesson 4: Continuous Shoulder Catches
Sometimes you love a move so much you just want to do it again and again. In this variation we'll show you how to just that. You even get to let go of her with both hands. Pretty fancy!
Lesson 5: Ochos
Going to Latin America? You'll need this one! Ochos are a common cuban style salsa move and a nice break from the linear feel you might be used to. You get to rotate around your partner freely without worrying about keeping the same line of dance.
And 20 More Lessons…
Click any lesson to view the demo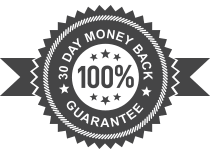 We Guarantee You'll Improve
Not completely satisfied within 30 days?
You get your money back.
That's our promise.
Start Improving Your Dancing Today